Adam Brennan
It is a very exciting time to be part of the live streaming eco system, the growth of the sector is exponential and companies like NewTek, Blackmagic Design, Vmix & Teradek are meeting the demand with very impressive offerings in terms of the technology required to provide clients with very high quality streams, that not only look amazing, but also offer some unique functionality when combined with social media and dedicated streaming platforms.
The reality is that there are very few limitations to what can be achieved with live streaming, once you have a stable internet connection. At StreamFox we are very excited to see what is coming down the line over the next few years, because we believe streaming is going to be the go-to solution for the foreseeable future.
So we decided to take a quick look at three new developments that we at StreamFox are really excited about.
NDI®|HX Camera application
Imagine adding a new video camera to your production with the affordability, convenience and ease of a mobile device app download. NDI®|HX Camera application turns any iOS mobile device into an IP-ready live video source when connected to the same network as your NDI-compatible receiving device or production system. That is what Newtek's app promises and from what we have seen they have delivered.
This is likely the first step in what we are confident will soon become totally wireless High Definition live streams and we cannot wait to start integrating this into our own service offering. The applications for technology like this are endless, from introducing new camera angles and new vantage points to your coverage, to adding completely new dimensions to your live broadcasts, webcasts and presentations, this camera application opens up a world of creative possibilities.
Teradek VidiU Go
Teradek have been around for a long time, they are responsible for many of the tools used by Filmakers and Broadcaster today. Their wireless monitoring solutions have been a godsend for camera ops and directors right across the world.
But the VidiU Go feels like something new and something that we are very excited about. On the face of it, it looks like this is just a modem that takes sim cards and then gives you an uplink to the platform, however it is more then that. The VidiU Go "was designed to perform in the most challenging production environments, which is why we've included the very same bonding technology found in our high end broadcast systems. Never drop another live broadcast by streaming over the combined bandwidth from Ethernet, WiFi, and up to two 3G / 4G / LTE modems, or use several iPhone and Android smartphones as hotspots for even more bandwidth redundancy."
This is combined bandwidth which means you can connect a plethora of devices plus 2 sim cards and the unit bonds everything to give a some redundancy which is what we are always chasing in the world of streaming, too much upload speed is still not enough as the saying goes in the office.
This could really interesting when 5G is fully rolled out! OR Will Starlink be the ultimate mobile solution, but that's a topic for another day. Either way this unit provides a lot of functionality in small and affordable package.
Black Magic Atem Constellation 8K (The Beast)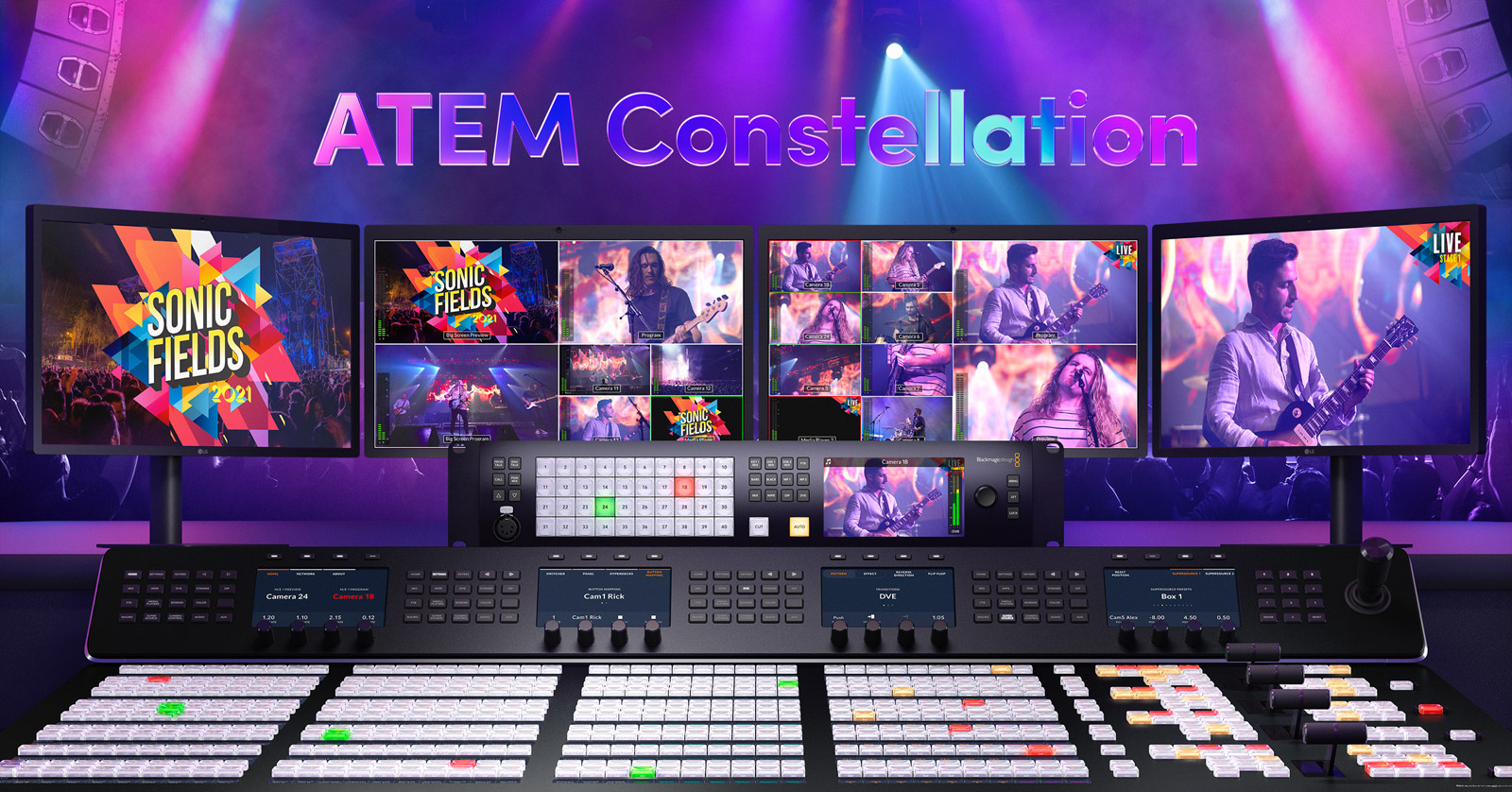 We have been watching Blackmagic CEO Grant Petty deliver Live Streams introducing us to their new products for along time now, but when we tuned into the most recent episode and saw the ATEM Constellation 8K we were blown away, what a magnificent piece of kit.
You get 4 M/Es, 40 x 12G SDI inputs, 24 x 12G SDI aux outputs, 4 DVEs, 16 Keyers, 4 media players, 4 multi viewers, 2 SuperSource and standards conversion on every SDI input! Then when switched to 8K, all these features combine to make a powerful 8K switcher! You even get built in talkback and a professional 156 channel Fairlight audio mixer with EQ and dynamics! Plus you can use the free ATEM Software Control or a choice of amazing hardware ATEM Advanced Panels.
Obviously this is a beast of a unit and not exactly something you are going to cart around in the back of the van but regardless, this is so impressive and proof that Live Streaming is the future of broadcast and with so many amazing features built right into the unit it will replace many of the racks that take up so much space. We are really looking forward to seeing some images of these units in situ.
Next time we will take a look at some software streaming solutions, thanks for reading and keep streaming.
On the look out for a streaming service provider? Look no further, get in touch with StremFox now and we can make your dream event a reality